The Winners have been announced in the 2015 Exercise Industry Awards. Below you will find a full list of winners and the judges comments.
The Exercise Industry Awards (formerly Fitness New Zealand Awards) are an annual event hosted in Auckland City. The event is a black tie awards ceremony, celebrating the very best and brightest in our industry.
The photos from the Awards Ceremony and Live Judging are now available, click here to view the album.
A big congratulations to all of the winners and thank you to all who attended.
2015 Exercise Industry Awards – In The Media:
Facility Awards

Supreme Exercise Facility of the Year,  sponsored by NRG CYBEX
Vision Personal Training, Takapuna
As part of the judging process we require an independent Net Promoter Score (NPS) survey from the membership of all finalists. NPS is internationally recognised as a measure of satisfaction as seen through the customers eyes. The supreme winner had 70% of their members return the survey – which is a testament in itself – and rated them an unprecedented 100, almost unheard of!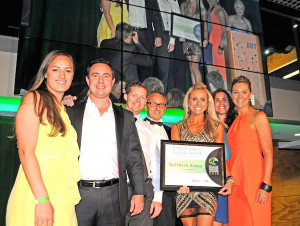 Large Exercise Facility of the Year (over 1201 members), sponsored by NRG CYBEX
Northern Arena, Whangaparaoa
Faced with increased competition the judges were impressed with the way Northern Arena raised its game and demonstrated a genuine commitment to the care and retention of its members. This is evidenced with a role dedicated to retention and extends to robust stats to support the effectiveness of what they are doing. The other key factor in their success is a very strong group exercise programme ably led by Kelly Howarth and her team of top quality instructors.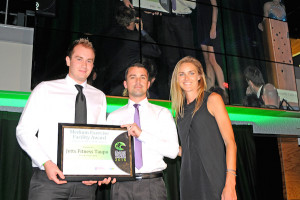 Medium Exercise Facility of the Year (between 500-1200 members), sponsored by Fitnessworks
Jetts Fitness, Taupo
Up against two high calibre previous winners, Jetts Taupo really needed to go quite some way to take the honours in this tightly contested category. What swung the pendulum their way was their strong focus on systems, coupled with clear and transparent membership offers removing many barriers to first time gym users.  Throw into the mix a highly skilled and supportive team all singing from the same song sheet and you have an award winning facility. Victims of their own success they have now outgrown the space they occupy and need to move up – literally!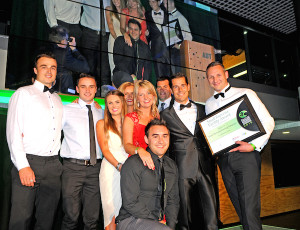 Small Exercise Facility of the Year (under 500 members)
Vision Personal Training, Takapuna
Every mystery shopper to this facility was blown away and commented how much they wanted to join. And when the assessor made their site visit every box on their list to check got a tick. What further impressed the judges was the way this franchise model has clearly understood the needs of PTs in today's fitness world and provides fully supported and accountable ways of motivating, up skilling and providing a career path for the PTs so that everyone wins – not least the members.
---
Individual Awards

Personal Trainer of the Year, sponsored by AUT – Auckland University of Technology
Kate Lugtigheid, Christchurch
In this category, judges are looking for consistent professionalism and a clear business vision going forward. In addition to ticking both these boxes Kate also displays excellent knowledge and coaching skills and has that X factor ability to makes all of her clients feel special.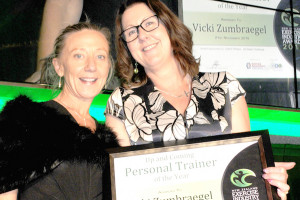 Up and Coming Personal Trainer of the Year, sponsored by CatchFitness – 20 Week Challenge
Vicki Zumbraegel, Christchurch

Since changing careers Vicki has hit the ground running and never really stopped for breath. All the work she has put in over the last 2 years has paid off handsomely. In the words of one judging panel "Has it all, a clear winner".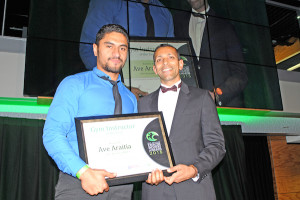 Gym Instructor of the Year, sponsored by AUT – Auckland University of Technology:
Ave Araitia, Auckland
Ave has great energy and presence backed up with sound practical skills.  Most importantly he walks the talk on his gym floor making proactive contact with gym floor users and enhancing their feelings of belonging and worth. A true asset to his organisation.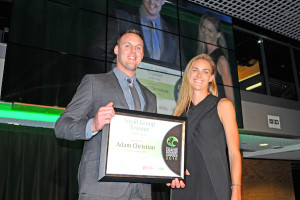 Small Group Trainer of the Year, sponsored by FitnessWorks:
Adam Christian, Auckland
With only 2 years' experience Adam shouldn't be as good as he is. Judges commented that his strengths include giving clear concise instructions, excellent preparation and an ability to interact with every single participant in a warm friendly and encouraging manner. He also has some interesting business ideas and is one to watch in the industry going forward.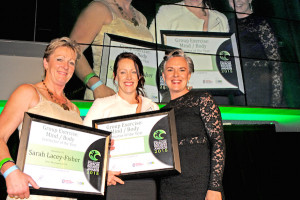 Group Exercise – Mind/Body Instructor of the Year, sponsored by Courage My Love
Winner: Sarah Lacey-Fisher, Christchurch        Runner Up: Sarah Norman
Judge's comments were glowing for Sarah Lacey-Fisher, and included "technically strong", "exceptional communication skills", rounded off with a true inspiration to all.
Note: Sarah Lacey-Fisher's award was collected on her behalf by Jean Scott (far left).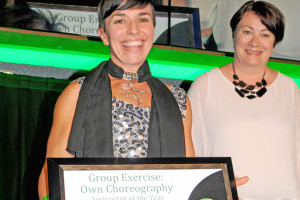 Group Exercise – Own Choreography Instructor of the Year, sponsored by OneMusic
Winner: Lisa Jurakovic, Auckland         Runner Up: Al Neale, Christchurch
In delivering her clearly well rehearsed classes, Lisa's technical precision, passion and dedication shows through.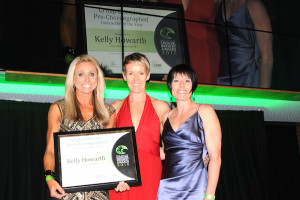 Group Exercise – Pre-choreographed Instructor of the Year, sponsored by Power Music
Winner: Kelly Howarth, Auckland          Runner Up: Suli Tuitaupe, Christchurch
This year the Pre-choreographed section of group exercise proved to be the most competitive category to judge.   The standard was very high, the score tight. Three finalists were judged  having  truly "Outstanding" presentations, but Kelly was deemed the very best of the best.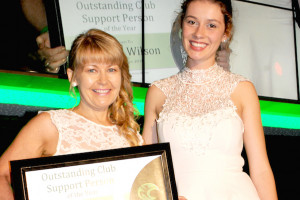 Outstanding Club Support Staff Member of the Year, sponsored by Invivo Wines:
Lorraine Wilson, AUT, Auckland
Lorraine is a true lynch pin in her organisation, always ready to go the extra mile for customers and colleagues alike. This year in particular she has stepped up to the mark given difficult working circumstances and gone above and beyond. Lorraine makes it her mission to put people at ease in what can be a very intimidating environment and is described by those that work with her as "warm, effervescent, kind, generous and endlessly patient."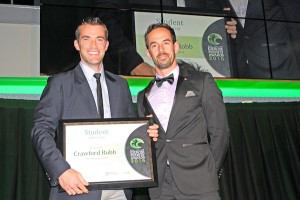 Student of the Year, sponsored by Les Mills New Zealand
Crawford Robb, Bay of Plenty Polytechnic
Crawford is another top quality student from the Bay of Plenty Polytech. In the live judging session he impressed the judges with his excellent rapport building skills, sound teaching tips and in the empathetic way he gave constructive and positive feedback to his client.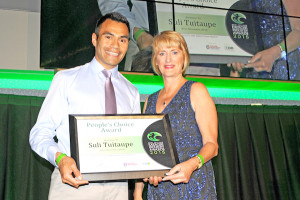 People's Choice Award, sponsored by NZ Fitness Magazine
Suli Tuitaupe, Christchurch
There is no feedback for this category
---
Education, Initiative & Community Awards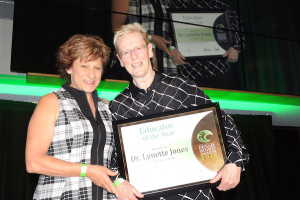 Educator of the Year, sponsored by AUSTSWIM WETS
Dr. Lynette Jones, Dunedin
Dr Jones is a senior lecturer at Otago University's school of Physical Education.
Her passion for physical activity and its integration into everyday health issues has inspired hundreds of students over the years.  Not only does she have the ability to communicate complex scientific concepts in ways even the utterly naïve can understand but she injects warmth, humour and a generosity of spirit into all of her teaching activities.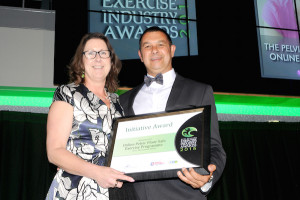 Initiative Award
Online Pelvic Floor Safe Exercise Programme, Christchurch
Vicki  Zumbraegel has developed what is certainly the only programme of its kind in her area of speciality – pelvic floor safe exercise.  In developing the 8 week online programme Vicki has brought out into the open a little talked about yet extremely debilitating and embarrassing topic affecting large numbers of women of all ages. Having the course online allows women to access the information and learn how to strengthen and protect their pelvic floor from anywhere in the country – or in fact the world.
Community Excellence Awards, sponsored by Horleys:

Honourable Mention: Hikoi 4 Life,
Auckland Region Women's Corrections Facility
PT in the Park – Christchurch
NRG Health and Fitness
Fit M In
YMCA Hamilton
PT in the Park – Nelson
The Never 2 Old Programme at Auckland City YMCA
Avantidrome
Tenga Schwalger-Teura
---
Special Awards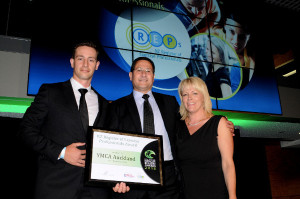 New Zealand Register of Exercise Professionals Award
YMCA Auckland
Few exercise and physical activity providers can boast a long history such as the recipient of the 2015 REPs award.
Founded in 1855, this is an organisation that is still going strong today. While built on those same values when it began over 100 years ago, it is clear that the award recipient has grown and adapted with the times.
Their first steps into the fitness side of physical activity came in 1972 with the establishment of their businessmen's health club. They were instrumental in establishing the 1970's gym 'scene' that was the start of the industry we know today. Treadmills and resistance strength training equipment had to be designed and built by staff as they were not readily available in New Zealand.
Today they provide the community with a range of programmes including specialist exercise programmes, learn to swim, youth development, kids activities, as well as being the largest provider of out of school care and recreation (OSCAR) services in New Zealand.
While many facilities achieve in the area exercise and fitness, the award recipient takes this beyond the club walls, beyond traditional exercise programming, and into the community and lives of the people it serves.
While the work of the award recipient is wide in terms of what they achieve, there are some key areas that are of significance to helping people who had perhaps not previously been able to access exercise options, to get active.
In the area of exercise for older adults they were early adopters of the respected 'never2old' programme, offering multiple sessions a week to keep up with demand of participants.
A recent addition to their service offering is their Jumpstart programme for those with diabetes, providing education on health psychology, nutrition, and physical activity. They also offer Green Prescription, and have programmes working with stroke rehabilitation, mental health and multiple sclerosis.
The award recipient has always been a strong supporter of REPs, and have shown their commitment to standards and providing a quality exercise service delivery to their members and customers at many levels.
We have much pleasure in announcing that the 2015 REPs award recipient is the YMCA Auckland.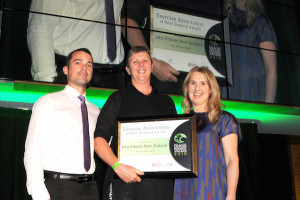 Exercise Association of New Zealand Award
Jetts Fitness New Zealand
Only five years ago, this company didn't exist, and now it's one of the largest providers of exercise in New Zealand, and one of a handful with 50,000 members. Not only that, but this company has grown the market by opening in places that traditionally were not well serviced – suburbs of large cities, small cities and even large towns, in some cases becoming the first gym in the area, and in other cases increasing the variety for the consumer. They were also one of the first to offer 24/7 operating hours cto the masses.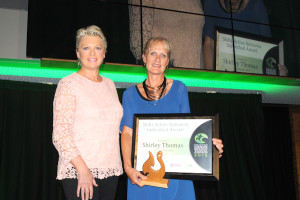 Skills Active Aotearoa Individual Award
Shirley Thomas
Shirley is a real advocate for Skills Active, and committed to ensuring those that work within the fitness Industry meet a recognized standard and wholeheartedly believes in workplace training. The recent training that staff at Kumeu rest home are undertaking is 100% due to Shirley.
It is testament to her belief in Skills Active qualification pathways that her well managed training sessions and assessor support​ has seen trainees power through their fist module within a month of starting.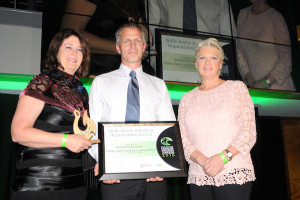 Skills Active Aotearoa Oraganisation Award
Auckland Council – Parks, Sport and Recreation Unit
Auckland Council Parks, Sports and Recreation unit are leading the way in providing a culture where the development of their teams is a priority. They are passionate about providing a high quality, safe and effective customer service experience to each sites local community and they are proud to support each other and celebrate each individual and team's success along the way.
Over the last 18 months they have had outstanding growth, support and development of fitness employee's right across all of the PSR unit sites.
All of the fitness clubs and fitness team members within with Auckland Council PSR Unit are now REPs registered.
For a full list of finalists, please click here